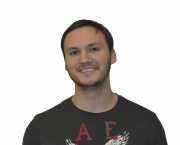 Joseph Szabo
School of Engineering and Applied Sciences
Mechanical Engineering '16
I decided to join the Solar Decathlon to gain hands on experience, that can translate directly to post graduate uses and applications. Doing coursework builds a strong foundation of knowledge, but having real world experience is absolutely vital to any student's success. It means a tremendous amount to me that I'm able to take part in a global competition that is so widely recognized.
I will strive to work on the HVAC systems of the house; detailing, designing, and simulating them and their interaction with the rest of the house, as well as any other mechanical systems. In addition, I hope to be able to take part in the actual construction of the home, and see it come to life.
I am a Buffalo native, and have lived here my whole life. It is absolutely fantastic to be able to help build the future of my home town, seeing it improve one step at a time. I look forward to one day seeing the finished product of our hard work, acting as a beacon for great things to come.