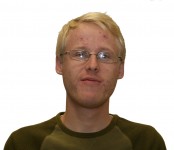 Ryan Dussault
Procurement Manager
School of Architecture and Planning
M. Arch. '16
I became involved with the Solar Decathlon because of the unique educational opportunity that affords student participants. Unlike traditional educational projects, this one is undertaken in a manner not unlike professional practice. This is what first arrested my attention and drew me to the project.
My primary work has been on kitchen designs, lighting and, most recently, writing the specifications for the project.
For me, the project is an opportunity to put Buffalo on the map not only as a city invested in sustainable building practices, but also in healthy and accessible food systems, and in the education of the next generation of young people who will take up these programs.